The shower head and faucet you choose can have a big impact on your bathroom's functionality and appearance. Many buyers also consider price and ease of installation when making their purchase.Most shower faucets have one handle for hot water and a second that you move left to right to control the temperature. Some come with a diverter to switch the flow between the tub and shower.Whether you're replacing an old shower faucet or installing one for the first time, there are lots of choices. Consider how much space you have and what kind of shower head you prefer, as well as your family's needs. Handheld showerheads can help users of all heights get clean and reach hard-to-reach spots, while fixed heads offer a variety of spray patterns.You'll also need to know what kind of valve your shower currently has, or if you're installing a new one. Look at the center of the trim kit for a logo or letter that indicates the manufacturer—K for Kohler, M for Moen—or take the cartridge out and check the label.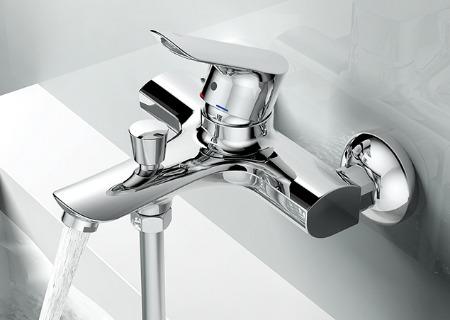 This is what connects to your hot and cold water lines, and it controls the temperature of the water in your shower. Some manufacturers offer fully outfitted shower systems with the control trim and a shower head or handheld wand included for one price. These are often easier to install, as the pieces match and may be in a similar design collection.Unlike tub faucets, shower heads have many options that can be customized to your liking. Some features that can be selected include the spray pattern and water volume.For example, you can choose between rainfall, massage and jet shower heads. These are designed to meet EPA guidelines for low flow without sacrificing a full shower experience.
Another important consideration is your home's water pressure. Some shower heads require a specific water pressure to work best. Be sure to test the shower head and tub spout in your home at different times of day to ensure that you get the right level of water pressure.Lastly, you'll want to consider the finish of your shower head and tub faucets. Chrome is common for both shower heads and tub spouts, and it comes in many finishes. Nickel is also an option, which can be used to create a modern or classic look and is available in several colors that resist scratching and tarnish.Tub spouts don't get much attention, but they can have just as big of an impact on the look of your bathroom. They are a constant fixture that will be around for years to come, so choosing one that suits your tastes is important.
You have options if you're replacing an existing spout, including slip-on or threaded models. Slip-on models screw onto a set screw that's typically located on the copper pipe that extends from the wall, while threaded spouts are manufactured to screw on a threaded nipple at the end of the spout.Before you install a new tub spout, loosen the setscrew on the old one by inserting a wrench into the opening or using a screwdriver. Be careful not to jiggle the spout and pipe too much or you may risk damaging the connection inside your wall.
Many manufacturers offer shower sets or complete bath fixtures in a variety of designs and finishes. These packages can save you time and money by simplifying the selection process. They also give you the option of matching your bathtub faucet, hand shower, and body sprays, if desired. For the most consistent look, choose fixtures from the same design collection in both the showerhead and handle. For the best appearance, choose a finish that hides water spots and fingerprints well.The showerhead and wand in this system nestle inside a larger wall-mounted head using magnets, and the overhead head offers six spray settings ranging from mist to massage. Many reviewers praised this set for its easy installation and superior temperature control, as well as its attractive design. But others complained of low water pressure, inconvenient hose lengths, and defective parts.